RIVER / WATER FRONTAGE and RIVER ACCESS

SOLD
Property 002 :
Just what everybody is looking for in RIVER ACCESS TRACTS…..This tract has a gentle slope with views of the backside of Garner. Easy access from paved road, a few oak trees, with some cedars to shade the lot. Access to water system and electricity in available. Centrally located close to Leakey and Con Can with Uvalde not far away. Places like these don't come on market very much, especially in this area. Just a few minute float into Con Can…. Deeded access thru 6 acre park to Frio River, which has RV hook-ups and pavilion w/bath.
Listed at $49,500

SOLD
Property 007 :
WATER/ACCESS
...Properties like this with just a little over a ½ acre in this subdivision rarely come up for sale, so don't wait too long. A very short walk over to the subdivision park, one of the best little private hidden secret parks in the area. A short float will put you in Garner Park, or just sit in the park and enjoy the cool brisk water of the Frio. Excellent property to vacation or build on this lot with level land. Frio river access, views of the frio Canyon mountains doesn't get any better than this….Manufactured home and RV's allowed, property does sit on a dead end street!!!
Listed at $75,000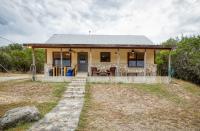 SOLD
Property 011 :
Enjoy this cozy rock home with huge rock fireplace with huge views of a box canyon in the Frio canyon, which are very hard to find in this area. You have to be looking very hard to find this one…..it's a true hidden gem!!! The views of the frio river canyon are absolutely breathtaking can be enjoyed from the breezy covered porch that runs the length of the front of home. The home offers living, kitchen open concept, the living area offers vaulted ceilings making home feel spacious and open. Owners get to enjoy owners HOA park
Listed at $329,000.

SOLD
Property 012 :
This energy efficient cottage sits overlooking the West Prong of the Frio River approx. 10 miles north of Leakey. Slightly elevated it's still a fairly easy walk to the 150 feet of Frio frontage. Easy access to this property from county road, this could be used for rental, residential or recreational. This is a great place for family and friend to getaway to, so bring your chair, ice chest and picnic by the river.

Listed at $189,000.

NEW LISTING
Property 013 :
A great property located in the heart of Concan, yes rentals allowed. Must see to be able to appreciate these views from this property. A great building site at top for the views and build a nice rental/recreational home, or just a getaway. There is a great rental home adjoining this property that is on the market, so don't wait too long.
Listed at $89,500

SOLD
Property 025 :
Located south of Leakey and a few miles north of Rio Frio off 1120, within a few minutes to the Frio river. Located at The Ridge, this beautiful well thought out home sits in a very popular area of the Frio Canyon. This beautiful 4bdrm/3bth rch style home w/pool, sits on a bit over 5 acres, large front & back covered porch, with large spacious gazebo right next to pool. Home has huge rock fireplace, vaulted ceilings in ktcn & living area, with high ceilings throughout the rest. Granite countertops in kitchen with top of line appliances, to many other features to mention. This tract takes in a corner lot, comes with some huge oaks scattered throughout property.
Listed at $699,000

NEW LISTING
Property 027 :
TBS… Excellent home on 4 acres+/- good vacation or rental income home! A 4bdrm/4.5bthhome with concrete stained floors huge covered walkway & porches, covered porches to each bedroom. This floor plan is designed for large group of family! The main room includes kitchen/living/dining area, kitchen comes with plenty of counter space which is all granite. Entire main room has vaulted ceiling, with rock fireplace, many windows to enjoy the view of the Frio canyon area. All bedrooms are fairly large with its own full bath and huge closet. When leaving bedroom or living area, you will always be walking under the covered porch. Home is just minutes from the river access park, located fairly close to Garner. A 10 minute drive to Con Can or Leakey, 20 minutes to Uvalde. As owners you will have access to the HOA park about 1/2 mile down CR 350.
Listed at $675,000

SOLD
Property 031 :
If you're looking for that perfect getaway place, where you and the entire family can go and enjoy in the Hill Country and the Frio river, your search just ended. This 5 acre tract is ideal for weekend and holiday getaways or great for permanent residence or just a great place to park an RV. Property gives you the rural country feeling, with the city life just a few minutes away. Don't let this one get away!!!

Listed at $140,000

SOLD
Property 034 :
Fabulous 71 acres with MILLION dollar views and the ONLY thing you see is nature and a place to let your imagination wonder forever. Abundant wildlife can be found year around at all feeders that convey. Cabin, which is a small shipping container converted into a bunkhouse, has 2 sets of bunkbeds and a generator. No electric, H2O or septic.
$190,000

SOLD
Property 038 :
A 5 acre tract lots of cedars and a few oaks mixed in. This subdivision is located north of Leakey about 10 miles. A place to enjoy with the whole family, build a cozy cabin or just enjoy camping. Also enjoy the cold spring feed pond, which is down road about 2 miles away. Property starts off gently, then drops off toward the back, makes a great hunting place.
Listed at $24,900

SOLD
Property 043 :
Just what everybody is looking for in RIVER FRONT TRACTS…..gentle walk into the Frio. Easy access from paved county road, huge oak trees, well, and electricity in place. Centrally located close to Leakey and Con Can with Uvalde not far away. Places like these don't come on market very much, especially in this area. Just a few minute float into Garner State Park.
Listed at $225,000

SOLD
Property 047 :
Frio River frontage, gorgeous views and a spacious and tastefully updated brick home are the focal points of this 53+ acre property. The home boasts a huge living area with beautiful hardwood floors and a massive double-sided fireplace. There are 2 master suites and a 3rd bedroom and bathroom on the other side of the house. An enclosed and attached garage, separate metal garage, barn, small guest house and in-ground pool with a rock patio all the way around and a huge rock fireplace, the complete the package. There is frontage on both RR336 and a paved county road lending commercial possibilities to the mix. The rolling, oak-studded land is unrestricted.
Listed at $679,000

SOLD
Property 050 :
This is located north of Leakey off hwy 83… 22 ACRES + located in the subdivision called SPRING COUNTRY RANCH. At the end of road which makes the hunting that much sweeter. Starts off flat with endless views with a 180 degree views. Has some of the best views of the hills and valleys you will ever see. Many mountain laurels, pine trees, cedars and some oaks cover this little place. Electricity is about 4 miles away, no septic, no well either. As owners in this subdivision, you will have access to a spring feed pond, where there is a pond to swim, kayak or fish!
Listed at $79,999

SOLD
Property 055 :
WATER NOT ON PROPERTY………. This property is located north of Leakey approx. 9 miles. It is easily accessed from a private road approx.5 mile off of highway 83. Spectacular views, wooded and no elec about 3 mile away. Ideal hunting property. Heavy cover has road frontage on two sides of property. Land is gently rolling with a deep draw. There is a community water pond in this subdivision for all landowners to enjoy. Don't want to forget anything from town.
Listed at $39,000