REDUCED
Property 005 :
Elm Springs Ranch is located just minutes from Junction, south east of Menard, of course London is minutes away. The ranch is suited for hunting, recreation or permanent living. Electricity runs to each property. The ranch features mature oaks and mesquite flats, on gently rolling terrain. Wildlife ranges from Whitetail Deer, Axis Deer, Turkey, Dove, and of course some predators. An all weather caliche roads that meander throughout the ranch If you are looking for a getaway property or a place to build your dream home call me to be a part of this awesome Hill Country Ranch!
Listed at $150,000

NEW LISTING
Property 006 :
Calling All Star Gazers, Eclipse Chasers, and Dark Skies Enthusiasts! Situated on top of a mountain, miles from town and light pollution, this beautiful 2BD/2BA cabin on 41+ acres is the place for you. Dubbed the Texas WheelHouse, it features a wrap-around deck, attached bunkhouse, and all the comforts of home. Sophisticated water catchment and storage systems were professionally installed both at the main cabin and at the cute cabin fashioned out of a sea-land container! A nice, all weather caliche road leads from the state highway to both cabins. This is the perfect property for year around enjoyment to include hunting, bird watching, hiking, and astrotourism.

Listed at $795,000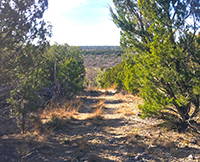 REDUCED
Property 009 :
67.40 acres in Paint Creek teeming with exotics won't last long! This area is known for its abundance of whitetail, axis, and even chocolate sika! Blackbuck have been in the area, and of course you've got plenty of hogs, turkey, dove, and typical predators such as bobcat and a fox or two.. The property lies between two dry creeks which draw in the wildlife. Many species of oak, native grasses, and other native browse provide plenty of cover for game, yet interior trails give you 100% usability of this relatively flat piece. The cabin sleeps 10 comfortably, has a full kitchen, bathroom, and a covered porch. Electricity and a rain catch system give it all the comforts of home. With well-defined boundaries, good access, gentle topography, and a comfortable cabin you can't ask for much more than this!
Listed at $279,000

REDUCED
Property 012 :
A great 31 acre tract used for hunting and recreational. Property is very secluded and challenging access, 4x4 will be required. This 31 acres is a great remote hunting property in Real County at an affordable price. There are several blinds and feeders in place, with many trails in place for the hikers in the bunch. This place is set and ready to be used, so don't wait too long.
Listed at $125,000

NEW LISTING
Property 024 :
How often do you see these types come up for sale and with exotics? Don't forget your guns for this ready to hunt 25 acres just outside of Con Can. Enjoy the river during the summer and hunt during hunting season. Mom & kiddos are happy, dad is also very happy. Located very close to the Frio and all the shops and restaurants. Property is about a 1 mile from blacktop, down an all weather road, gets a little rugged the closer you get to property from 127. Property is easily accessed from easement road, starts off flat, some clearing has been done. Cleared road to the one bedroom cabin, with a covered two car carport. All sorts of exotics can be found here, along with whitetails. So don't wait.
Listed at $299,999

REDUCED
Property 027 :
Welcome to a Hunter's Get-A-Way with a cabin that sits on 23 acres of land, positioned 12 miles north of Leakey, Texas, along highway 336 and provides easy access to the property. The terrain features rugged canyons adorned with oak, cedar, and native brush escarpments. With highway frontage, the landscape boasts remarkable million-dollar views and is just minutes away from the Frio River. The property includes exotic animals such as axis and whitetail, along with an abundance of hogs. There are hiking trails throughout the property for your weekend adventures.
Listed at $170,000

NEW LISTING
Property 030 :
There's no BETTER scenic drive in the vicinity than this route, with imposing rock formations lining the rock cliffs and solid rock bottom roads. You"ll encounter meandering creeks and natural springs throughout the journey. This secluded 15-acre parcel is situated towards the rear of the subdivision and it's advisable to have a 4 x 4 vehicle. The land boasts a variety of hardwood trees and is bordered by two different roads. It's an ideal locations for hunting and camping, and there's potential to create some excellent hiking trails. The views are like no other.
Listed at $119,000