Email Martin
(830) 279-4124 Cell
(830) 232-4500 Office
(830) 232-4501 Fax
(830) 232-6709 Home
FRIO CANYON REAL ESTATE, LLC
Martin Martinez , GRI Realtor Associate
Site Updated 22 March, 2023
Martin Martinez, GRI Realtor Associate is a successful realtor with a reputation for delivering personalized, world-class service with positive results. His passion is to serve the needs of his clients and his community.
A native of the Frio Canyon, Martin has lived in Leakey most of his life where he enjoyed swimming in the Frio, hunting, fishing, and enjoying the outdoors. Martin has a wonderful wife of twenty years, Nina. He also has two children, Marcus and Olivia, who both attend Leakey ISD. He is thankful to still reside in this area, so that his children will be able to experience and appreciate what a small town has to offer.
Martin has earned the GRI designation, is a member of Kerrville Board of Realtors (KBOR), and Texas Association of Realtors (TAR). In addition to being an avid outdoorsman, Martin is very involved in his community and Leakey ISD. This diversity, allows him to represent all aspects and interests within the content of Premium Real Estate markets, bringing with him-- knowledge, experience and commitment.
Martin knows, when you are an informed buyer or seller, you will make the best decision possible for the most important purchase or sale of your lifetime. This is the reason that one of his main goals is to keep you informed on trends in the marketplace using the latest statistics for this area.


NEW LISTING
Property 005 :
Elm Springs Ranch is located just minutes from Junction, south east of Menard, of course London is minutes away. The ranch is suited for hunting, recreation or permanent living. Electricity runs to each property. The ranch features mature oaks and mesquite flats, on gently rolling terrain. Wildlife ranges from Whitetail Deer, Axis Deer, Turkey, Dove, and of course some predators. An all weather caliche roads that meander throughout the ranch If you are looking for a getaway property or a place to build your dream home call me to be a part of this awesome Hill Country Ranch!
Listed at $160,000

PENDING
Property 013 :
Paradise on the Dry Frio River on a lot with a little over a 1/2 acre, community water system, electricity is nearby on two sides, protected wandering wildlife and large community park areas. Secluded Frio Cielo Ranch is a little slice of Texas Hill Country heaven that you will appreciate for years to come. Build your dream home for full time residential or a little cabin for short term rentals.
Listed at $35,000

REDUCED
Property 018 :
IN PRIME LOCATION......... BREATH TAKING VIEWS!!!!! This recently updated 2 story rental comes with 3bdrm/4bth has great VIEWS.It sits high on the mountain to absorb those views, that looks over the Con Can valley. The owner has done a great job maximizing the outdoor space with huge covered patio designed to accommodate large groups. The many sq feet of concrete allows everyone to be comfortable in the outdoor patio to enjoy the "L" shape pool. This house is currently in the rental pool and does great, designed to entertain large groups. Many TV"s can be found throughout the home, especially great for entertaining the younger crowd or in the upstairs game room. Along with many updates of the metal roof, game room/bunk room, family room & 2 bedrooms each with full bath comes ample parking. Lot next door also for sale, would make a great addition to this place either for more parking or another renta

Listed at $950,000

NEW LISTING
Property 006 :
Calling All Star Gazers, Eclipse Chasers, and Dark Skies Enthusiasts! Situated on top of a mountain, miles from town and light pollution, this beautiful 2BD/2BA cabin on 41+ acres is the place for you. Dubbed the Texas WheelHouse, it features a wrap-around deck, attached bunkhouse, and all the comforts of home. Sophisticated water catchment and storage systems were professionally installed both at the main cabin and at the cute cabin fashioned out of a sea-land container! A nice, all weather caliche road leads from the state highway to both cabins. This is the perfect property for year around enjoyment to include hunting, bird watching, hiking, and astrotourism.

Listed at $795,000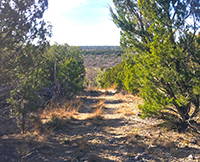 Back On Market
Property 009 :
67.40 acres in Paint Creek teeming with exotics won't last long! This area is known for its abundance of whitetail, axis, and even chocolate sika! Blackbuck have been in the area, and of course you've got plenty of hogs, turkey, dove, and typical predators such as bobcat and a fox or two.. The property lies between two dry creeks which draw in the wildlife. Many species of oak, native grasses, and other native browse provide plenty of cover for game, yet interior trails give you 100% usability of this relatively flat piece. The cabin sleeps 10 comfortably, has a full kitchen, bathroom, and a covered porch. Electricity and a rain catch system give it all the comforts of home. With well-defined boundaries, good access, gentle topography, and a comfortable cabin you can't ask for much more than this!
Listed at $299,000

NEW LISTING
Property 002 :
Location…Location……Location!! This place awaits a nice home for rentals, many nice homes are located in this area. The 6 acres will be surveyed out of a 12 acre tract, comes with river access. The river access park is located about a ¼ of a mile south of the 6 acres. The tract will front on a private road, that will be behind a locked gate. The lot is all flat and loaded with mesquite trees toward the back of property. You will have a 360 degree view, especially the back side of Garner and the Frio Canyon hills. Electricity runs along the front and next door, must drill a well and put in septic.

Listed at $300,000